WOW-- I CANT GET THE IMAGE OUT OF MY HEAD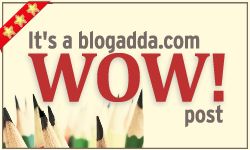 I CANT GET THE IMAGE OUT OF MY HEAD
I cant get the image out of my head,

(Friends, my first attempt at WOW. Do write in your valuable comments )
I was in standard ten. At the end of a dreary week, there was a flier, saying that there will be a school excursion to Goa. A good 10 days without those dull and dreary

classes, loads of homework and nagging parents. The jubilant teenagers hit the roof with joy and almost all confirmed for the trip and had a whooping whale of a time. The next year, it was Chennai, again a beach place amongst all the temples and stuff. Then it was Trivandrum, Raameshwaram and Kanya Kumari.
WAVES, big waves, huge waves, outrageous waves and atrocious waves. The seas and oceans were always associated with voluptuous wavy waves and big time fun.
Decades later, settled in Mumbai, now a mother of

two, heard about a little beach village called Alibaugh. Ventured out for a weekend of fun, to bring back all those beach y -- wavy

memories, tucked away, during the process of settling down from a boisterous bindaas bhidu to a subtle mother of two.
Checked

into a quiet beach side resort. Me - Opened the gates of my tucked away memories and proceeded to have a whooping whale of a time. My memories of those carefree girly days along the sandy-pebbly beaches, its wavy waves as
the grumbling grew to a mighty rumbling; And out of the oceans the waves came tumbling. Great waves, small waves, lean waves, black waves, gray waves, along with the rains contributing to the fun and frolic, k
ids loved the beach time fun. ( hubby happy with his chilled beer and a over-stuffed plate of the Koli's preparation of bombil and jhingaa fry). Hearts laden with gratification and happiness drew the curtains to slumber away after an energetic and eventful, content day.
After a fit-full undisturbed no dreams sleep, totally rejuvenated and ready for another day with the monstrous waves, opened the window screens, to feast my eyes on the visions of the roaring seas, from the floors above.
WHAT THE BLOODY HELL!! WHERE IS THE GOD DAMN SEA!! ??
Stretches and stretches of land and only land met the unsuspicious eyes. Right up to the distant, endless horizons. Utterly shaken and totally disheartened, I ran down in my night gown, towards the shores to see the remains of the sea, seen the previous night.

ALAS!!

-------

I CANT GET THE IMAGE OUT OF MY HEAD-----------
Decades later, I get to see and learn about something called tides. And that too - a high tide and a low tide.!! My geography teacher will be so pleased with me today ,to see/hear me teaching my kids about the tides. It surely is a lesson well learn t. No matter, decades later. Coz, its better late then never.
Today, you can often see us at ALIBAUGH, staying at the same resort, just because
-------

I CANT GET THE IMAGE OUT OF MY HEAD-----------!!